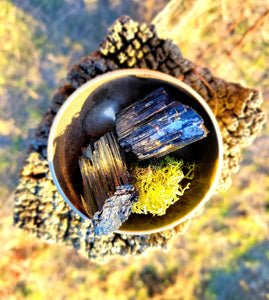 Black Tourmaline, aka the energy bouncer, is the body guard stone that protects against and eliminates negative energy. Not just for you, but for your home. Placing Black Tourmaline in the entry way of your home is common for that very reason. This stone keeps your energy at the highest of frequencies, which is why it works with your root and sacral charkas to bring security and grounding. The rich black color of this stone allows it to absorb negativity without compromising its own energy. Place this crystal near your computer or electronics, as it is the most powerful mineral for absorbing electromagnetic radiation. 
Are you picking up on bad vibes from a person or place?
Have you ever gone into a situation where you know there will be negative energy?
Are you embarking on a spiritual journey?
Keep unwanted energy out of your home and life with Black Tourmaline.
Each stone measures 1.5 in - 2 in.