ROOTED REMEDYS
Holistic skin care blessed with Reiki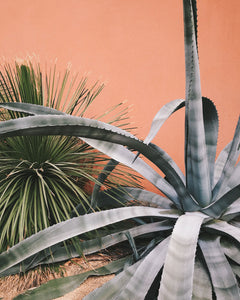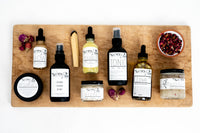 Reiki + skin care
Reiki is Universal life energy, intended to balance, heal and ground. It can be received, given or infused into anything. In this case, my skin care & therapeutic tonics.
Rooted Remedys combines this magical practice with a beautiful blend of herbs and other organic ingredients.
Cultivated with intention to enhance the magic within.
After all, energy is contagious.
Testimonials
15 days in... and I finally have the best skin of my life!

Jamie R.
All of my redness is gone, pores are minimized and my face isn't a total grease ball like it used to be!

Jessie M.
That is the best my skin has EVER felt after rinsing a scrub off. That honey is LIQUID GOLD!

Cassie M.
When I opened it, I could feel the energy and care you put into your craft. I really love the cards and corresponding yoga poses! This was as surprise and it is one of the best gifts I have ever recieved.

Sarah R.
After using HYDRATE for less than a month, my esthetician said my hydration numbers almost doubled! It was in the teens, and now I'm almost in the 40's. I love how my skin glows. It smells amazing.

Jessie S.
I get really painful razor burn after I shave. Not anymore! I find using LOVE ST right after cools the burn and eliminates redness and bumps!

Roni P.
My husband had a terrible skin rash after shaving his head. His neckline was red and painful. I didn't have aloe vera on hand, but I knew CLEANSE was antimicrobial and healed my skin. I applied it to his neck line, and his skin was healed in to time!

Lindica M.
I put LOVE ST in my diffuser and burn the oil. My friend adds drops to her bath at night. We love the smell.

Francie R.
GLOW reminds me of this spa I went to in Ireland. Im not sure if it's the frankencense or ylang ylang, but the scent takes me right back to that luxurious place.

Barb P.
Testimonials
I'm usually dry even after I put on moisturizer. I have to do multiple layers. Not tonight! Whatever secret magic is in this cream [HYDRATE] is wonderful.

Corinne B.
My 'crow's feet' look WAY better! I reiterate how happy I was at how well RESURFACE prevented a blemish from surfacing, that would've stayed on my face for a minimum of 4 weeks otherwise!

Shanna B.
My favorite is GLOW. Not only does it make my skin feel good and look dewy, but I've also discovered what an amazing primer it is! I've never had my BB cream go on so smoothly! I can't live without it now!

Ronica P.